It is an inspection method which performed by weighing the bulk or baled cargoes in the bonded areas.
Total net weight of cargos become determined by using laden condition weight and tare of the lorry's during loading or unloading operations.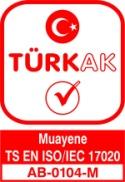 The service has been presenting under the 
TÜRKAK
 TS EN ISO/IEC 17020-2012 accreditation.
P.S.: We have been presenting this service also as "Class B International Inspection Company" according to the notification no. 2015/24 of The Ministry of Economy.