This is an inspection where the samples can be drawn from cargo which is bulk or packaged and sent to either international or accredited laboratories in order to have test results.
In the meantime, part of samples can be kept in our archives according to the requirements of standards.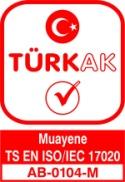 The service has been presenting under the 
TÜRKAK
 TS EN ISO/IEC 17020-2012 accreditation.
P.S.: We have been presenting this service also as " Class B International Inspection Company" according to the notification no. 2015/24 of The Ministry of Economy.