That is an inspection method where the volume of packaged/unpackaged cargo can be calculated by measuring its dimensions. Upon results, well stowage of cargo is provided.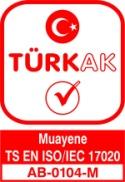 The service has been presenting under the 
TÜRKAK
 TS EN ISO/IEC 17020-2012 accreditation.
P.S.: We have been presenting this service also as " Class B International Inspection Company" according to the notification no. 2015/24 of The Ministry of Economy.