The Association of Ege and KP Fitter International Gözetim Ltd Şti. is accredited by both TAEK and TURKAK in order to perform measurement of radiation dose rates on all kind of transportation vehicles, metallurgical row materials, scraps, semi products and finished products by using the equipment with  Geiger Muller  dedector.
Further above, it is also possible to measure the radiation dose rate at Field, background, warehouses and report it.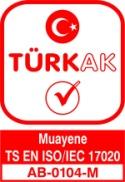 The service has been presenting under the TÜRKAK TS EN ISO/IEC 17020-2012 accreditation.
P.S.: We have been presenting this service also as " Class B International Inspection Company" according to the notification no. 2015/24 of The Ministry of Economy.