By this kind of inspection, inspectors check the watertightness of the hatchcover by using pressed water and report holds whether they are available to carry out Cargo.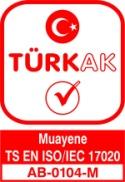 The service has been presenting under the TÜRKAK TS EN ISO/IEC 17020-2012 accreditation.
P.S.: We have been presenting this service also as " Class B International Inspection Company" according to the notification no. 2015/24 of The Ministry of Economy.