This is an inspection method where it can be done usually prior to discharging operation  in order to determine the dead space on top of holds or at its corners.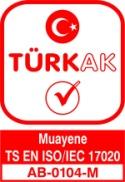 The service has been presenting under the TÜRKAK TS EN ISO/IEC 17020-2012 accreditation.
P.S.: We have been presenting this service also as " Class B International Inspection Company" according to the notification no. 2015/24 of The Ministry of Economy.